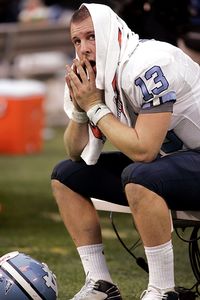 During my walk back to my apartment from Kenan Stadium, after watching the Tar Heels look completely incompetent on offense for the second week in a row, I heard the fans around me assigning blame and offering their personal suggestions on how to help a team that now looks to be in danger of another losing record after a promising 3-0 start. From "We need to fire Butch, a team is only as good as its coach" to "Yates is chickenshit outside of the pocket," every Carolina fan seemed to have an opinion.
What's my opinion on this team? On defense I think we deserve the credit we have been given. Throughout the first 3 quarters the defense limited the Cavaliers to three field goals, all of which were longer than 35 yards. For the second week in a row the defense allowed a back breaking touchdown drive in the fourth quarter to put the game out of reach. While this shows we are not a premiere defense in college football, the blame falls partly on the offense for these drives. In the past two weeks there have been WAY too many 3 and outs which gives the defense little rest. By the time the 4th quarter rolls around, even the most talented of defenses would be tired from having to be on the field in the heat for so long. All in all the defense is not something that should overly concern most Tar Heel fans. Holding a team to 16 points should be good enough for a team to win the game.
The offense is a different matter. I said a week ago in my NFL picks post that the Cleveland Browns would have trouble scoring in a brothel. Well right now I think the Tar Heels would have trouble scoring in a postapocalyptic world in which only strippers had survived. For my money there are three main people (or groups of people) that need to be held responsible for the fact that our offense has been absolutely putrid. The first is the offensive line. The line cannot run block or protect the passer effectively at this point. Shaun Draughn is a quick back like Willie Parker who will excell when the offensive line creates holes but does not run North-South and break tackles effectively (more on the RB situation in a moment). Their line's pass protection is no better and Yates rarely got time to let plays develop and was often flushed out of the pocket (where as my fellow fan so eloquently put it "he is chickenshit"). While this lack of protection certainly limited his effectivesness, Yates also deserves some of the blame for the offense. Yates hardly threw anything more than 5 yards down the field all game and always checked down. While I occasionally get annoyed with Ben Roethlisberger's unecessary sacks at least he is willing to chuck the ball down field and find open receivers. Yates is a mediocre pocket passer who can play fairly well with protection, but most of the promise he showed early last year seems to be more a consequence of a better offensive line and the best wideout in UNC history. UNC does have talented freshman wideouts in Highsmith and Boyd (Greg Little is a good slot reciever but has not lived up to his high recruiting ranking) but they are obviously not at Nicks' level just yet.
More than anyone though, John Shoop deserves the bulk of the blame for the offensive ineptitude. Shoop is at least partially responsible for the overabundance of swing passes that netted hardly any yards. He decided to keep Shaun Draughn in when Draughn obviously could not consistently run the ball instead of putting in the tougher Ryan Houston. He continued to attempt a wildcat offense that has so far only netted one big play all year (the pass to Boyd from AJ Blue against ECU). He never took advantage of the fact that the running game was picking up late in the game by trying for play action. He (or perhaps Butch Davis) refused to go for it on 4th and a foot from the UNC 40 in the 4th quarter when the Tar Heels were down by six and had Ryan Houston who had just converted an earlier 4th and 1. Ultimately Shoop is like a timid 12 year old kid playing Madden who is just trying to get some yards and never actually getting agressive in his play calling. While Yates and the offensive line still have time to improve, Shoop needs to be shown the door.
So where does this put the Tar Heels for the rest of the season. Well unless the team is really awful they should get a win against Georgia Southern next weekend. That would put the Heels at 4-2 (but 0-2 in the ACC). The issue is after Georgia Southern, the only game left in which the Tar Heels can be expected to win is Duke, and the Blue Devils may actually be playing better football right now. Unless things change we could certainly be looking at a 5-7 or even 4-8 season in a year where many expected UNC to get 8 or 9 wins. However don't abandon all hope just yet. With better play calling the offense does have enough talent to improve and the defense should keep us in games. Ultimately though we have to get away from what we have been doing the past two weeks, which is playing the same old Tar Heel football.