Last Friday, the Daily Tar Heel (
UNC's
student newspaper)
compiled a list
of the top 10
UNC
basketball players in the school's history to celebrate the kickoff of the 100
th
season of Carolina Basketball. While the list seemed accurate and I have no major issues with inclusion or exclusion of any of the players, I also had only seen three of the players on the list play in the powder blue. Consequently, I took it upon myself to create a list of the top 10 players in
UNC
history since 1996, which was when I first began watching college basketball. Hopefully this list will be a little more relatable to those who did not see
Rosenbluth
, Ford, or even Jordan play at Carolina.
I'm sure the selections and order of this top 10 will create controversy regardless so while I'm trying to be objective, stats are not the ultimate determinant of inclusion and position on this list. Likewise, the NBA careers are irrelevant to me so don't complain how Forte does not belong on the list. Finally while some of the one and
done 'ers
have made an impact, none so far have managed to That out of the way, here we go. Lets count down backwards just for the sake of suspense.
10. Wayne Ellin
gton
- Before I delve in to the 10 spot, I want to give quick honorable mentions to Jackie Manuel, Danny Green,
Shammond
Williams and
Rashad
McC
ants
all of whom were great college players. I went with Ellington over
McCants
because of his slightly better shooting, greater consistency, and more team-oriented attitude. Williams was every bit the shooter that Ellington was but the ring and a Final Four MOP win out. Ellington had one of the smoothest strokes in Tar Heel history, and was probably my favorite player on the 2009 title team.
Career College Stats:
14.7 Points Per Game
39.6 3-Point Field Goal Percentage
9. Brenda
n H
a
ywood-
In terms of sheer size and skill Haywood may be higher on this list. He made an impact on both sides of the ball. Heywood
finished
with the highest field goal percentage in
ACC
history and also recorded the first triple-double in
UNC
history. However as far as national recognition Haywood received only second-team all
American
recognition and was not involved in any title teams.
Career College Stats:
10.0 Points Per Game
6.0 Rebound Per Game
63.9 FG Percentage
8. Sean
May-
Like Haywood, May was a force in the post during his junior year of college after an
i
nconsistent
first couple seasons at Chapel Hill. May had some of the softest hands in college basketball and went strong to the basket both in scoring and rebounding. His junior season which included first team all American recognition, the Final Four MOP, and a national championship earns him the
eighth
spot on this list.
Career College Stats:
15.8 Points Per Game
10.0 Rebounds Per Game
7. Ty L
awson-
In 100 years of basketball littered with talented point guards Lawson may be the fastest of them all. If looking for two plays that sum up his career as a Tar Heel I would point you to his
crossover vs.

LSU
, and his
last minute running buzzer beater
against
FSU
. Lawson certainly belongs on this list and was perhaps more important than #50 to
UNC's
title run last year.
Career College Stats:
13.1 Points Per Game
5.8 Assists Per Game
1.8 Steals Per Game
6. Joseph Fo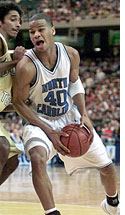 rte
- Its hard to praise Forte without simultaneously wondering what could have been had he managed to stick around another year. Forte had great talent at the 2 guard position and played the game very well. He was the
ACC
freshman of the year and gained first team all
American
recognition his sophomore season. Had he stuck around he may have been national player of the year and the 8-20 season may never have happened. That said Forte was very good during his first two years at
UNC
and thus deserves
recognition
.
Career College Stats:
18.7 Points Per Game
5.8 Rebounds Per Game
5. Vince
Carter
- While Jordan will always be "his airness," Carter may be the most impressive and vicious dunker in UNC history (and he reminded us all of that at the
UNC Alumni G
ame
). Carter evolved as a player and in his junior year was one of the best players in the nation. He earned first team all American honors, but Vincantiy will always be most remembered for his ability to throw it down.
Career College Stats:
12.3 Points Per Game
36.8% 3-Point Field Goal Percentage
1.7 Highlight Reel Dunks Per Game (okay so I made that stat up)
4. Raymo
nd F
elton-
Some may feel this is too high for Felton, who had a similar skill set to Lawson and received similar national recognition (All-American, Cousy Award). However, while Lawson could shoot and drive as well as Felton, Raymond was a better leader (especially as he had to satisfy McCants) and better defender and thus earns a spot above Lawson. Like Lawson, Felton not only excelled as a scorer but also as a passer, averaging 6.9 assists per game during his junior season.
Career College Stats:
12.5 Points Per Game
6.9 Assists Per Game
3. Ed
Cota
-
One thing I felt the DTH definaltey got right was honoring Cota among their top 10. While he averaged a respectable 9.1 points per game, he was the embodiment of a pass first guard. He was honored as the ACC freshman of the year and through his career he became the first player to score 1,000 points, and have 1,000 assists and 500 rebounds in a career. While Jamison, Carter, and Haywood mad the highlight dunks and shots, it was often Cota who was the one setting these plays up.
Career College Stats:
7.5 Assists Per Game
2.
Antaw
n
Jamiso
n-
One on one I would take Jamison every day over the #1 player on this list. Jamison has a knack for scoring and was widely acknowledged as the best player on a team that included Carter, Haywood, and Cota. He was named national player of the year and was also a class act who represented UNC well on and off the court.
Career College Stats:

19.0 Points Per Game
9.9 Rebounds Per Game







1. Tyler
Hansbrough-
If this were a list for most athletic or most exciting players, Hansbrough would have trouble cracking the top 10. However it is pretty much impossible to put anyone above Psycho T on this list. He has the edge in statistics, awards, and national championships over everyone on this list. He Holds the ACC record for points scored and holds the NCAA record for free throws made. Hansbrough gets the top spot on this list and deserves consideration as the best UNC player of all time.
Career College Stats:
20.2 Points Per Game
8.6 Rebounds Per Game
79.1 Free Throw Percentage
0.7 Contacts Lost Per Game