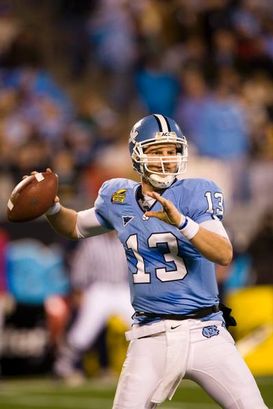 Larry Drew could take a lesson from him
Between having very little free time and my focus on UNC basketball, the UNC football program was pretty much ignored on this blog this fall. Prior to the start of the season, I wrote a slightly tongue-in-cheek post about going through the 5 stages of grief for UNC's football season after it became apparent that the agent and academic investigations would leave a serious dent in a defensive unit that was being mentioned along those of top SEC schools. What I thought would be a dent ended up being more of a Crater. Here's a quick breakdown of the players who missed time (a big thanks to
TarHeelFan,
an awesome UNC blog that made it a lot easier to find all of this).
Missed Time but Cleared (games missed):
Shaun Draughn (1), DaNorris Searcy (2), Linwan Euwell (5), Ryan Houston (season-decided to redshirt).
Suspended (games missed):
Deunta Williams (4), Kendric Burney (7), Charles Brown (season), Brian Gupton (season), Jonathan Smith (season)
Declared Permanently Ineligible:
Marvin Austin (dismissed from the program), Greg Little, Michael McAdoo, Devon Ramsay
Considering that Austin, Quinn, Williams, and Burney were all projected to go in the first 3 rounds, the fact that UNC's defense was able to field even a respectable unit it a testament to the depth and coaching of the unit. The fact that the entire linebacker core avoided missing games due to suspension (though Sturdivant did miss a few due to injury) played a big part in holding things together. Perhaps more surprising than the defense's performance however was T.J. Yates' transformation into a very good college quarterback in his senior season. While the loss of Little and Houston were significant the offense was more a victim to injuries than suspensions. Yates' favorite target, tight end Zach Pinalto, broke his fibula and has been injured on all 3 of his collegiate touchdowns. Johnny White, who stepped up in a big way as a senior and was well on his way to a 1000+ yard season, broke his clavicle against Florida State. Even with those injuries Yates' stellar play kept the offense together. Dwight Jones broke out this season and is 105 yards short of a 1000 yard season going into UNC's bowl game. Ultimately considering how many key players missed time, a 7-5 record and a trip to Nashville for the Music City Bowl and a meeting with Tennessee seems an overwhelming success. On the other hand though, UNC was picked by some to win the ACC and was even considered a dark horse contender before Marvin Austin's tweets launched the team into a maelstrom. So the obvious question arises: "Was the 2010 UNC football season a success or a failure."
In attempt to answer this question lets quickly take a look at the high and low points of the season.
High Points
TJ Yates' and Jhey Boyd leading a furious comeback against and LSU squad that would only lose 2 games this season despite UNC missing 12 players on the defensive side of the ball
UNC's dominant second half against ECU a game in which both Johnny White and Shaun Draughn both broke 100 yards on the ground
A home win against Clemson and watching my med school class president, a Clemson alum, wear a UNC shirt the next day as a result of me winning our bet on the game
Ending a 29 year draught at UVA with a dominating 44-10 victory
The entirity of the UNC-FSU game. One of the most entertaining games of the year. And a special mention for Hunter Furr's late game heroics.
TJ Yates putting together a great season and taking hold of most of the UNC passing records
Low Points
Injuries and Suspensions covered in depth above
Watching UNC's depleted defense fail to stop GT's triple option offense
Blowout losses to Miami and VT after promising starts to each game
Blowing yet another 4th quarter lead against NC State and the resulting explosion of Wolfpack ego
Jhey Boyd disappearing from the offense after what seemed like a breakout game against LSU
As painful as the losses were, it deserves to be said that all of the games UNC lost were expected to be tough games even prior to all of the suspensions. UNC won the games it was supposed to and even a couple it wasn't. Furthermore, even had the team been at full strength, there is no sure bet that they could have taken down a VT squad that went undefeated in conference play. And even if the heels had managed to go undefeated (which very few were predicting) they still would likely have been on the outside looking in on a Oregon-Auburn national championship game. Furthermore, given the state of the program just 5 years ago, a bowl berth at 7-5 is not all that bad of a result. One other silver lining of all the suspensions is that many younger players on the defensive end of the ball got a chance to develop, especially Donte-Paige Moss. Factor that in with the fact that some players such as Gupton and Charles Brown will be back next year after their suspensions and UNC may be able to field a pretty solid unit on defense in 2011.
Dwight Jones could be a star next season
Still, one is left to wonder what might have been had Marvin Austin never gotten on twitter. UNC may have had one of the best defenses in the nation. They could very realistically taken down LSU in Atlanta (who won the game primarily on special teams) and probably would have fared much better against' GT's triple option. The games at Miami and against Virginia Tech would have been tough, but few can deny that UNC would have stood a better chance with Austin and Quinn rushing Jacory Harris and Tyrod Taylor. Couple a full defense with TJ Yates' improvement and an additional target in Greg Little and UNC could have been something really special. As I said VT would have still been a very tough game, but its not unrealistic to believe UNC would be playing in the Orange Bowl had the academic/agent scandal never happened.
While whether you view the season as a success or a failure is largely a matter of perspective, oddly enough I think the result of UNC's bowl game will go a long way in determining the ultimate answer to the question. Over the past two seasons UNC posted 8-4 records, but failed to win their bowl game match ups (both of which yours truly attended). Tennessee is certainly not top competition, but they do hail from the vaunted SEC. Furthermore, in an enterating twist of irony Tennessee had played millions to back out of a deal that would have pitted the Tar Heels and the Volunteers in a home-away series over the next two seasons. If UNC wins, I will still always wonder what might have been, but in the end I will consider this season somewhat of a success.